The Cambodia's food culture is as charming as the famous Angkor Complex, which you should not miss. Thanks to the Mekong River and the Tonle Sap, the two major ingredients in the Khmer diet are rice and freshwater fish.
Khmer diet has been influenced by a variety of countries. As a colony of French in the past for many years, Cambodia have been influenced by the French diet greatly. And it also takes influences from neighboring countries, such as China, Thailand, as well as Vietnam.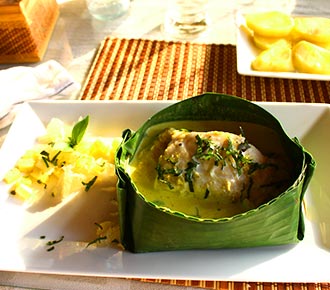 Fish Amok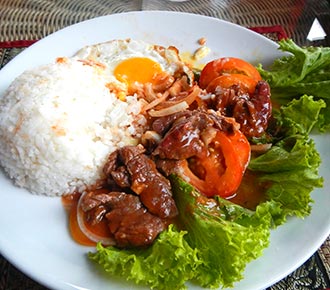 Beef Lok Lak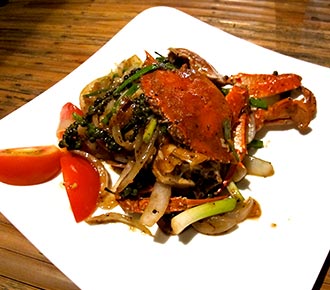 Kampot Pepper Crab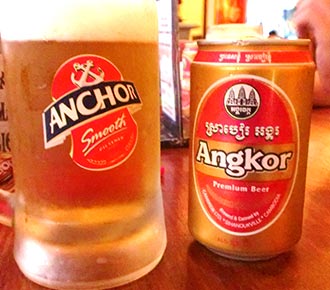 Cambodia Beers
Popular Dishes
1. Fish Amok
Fish Amok is one of the most well-known Cambodia dishes. It is a fish mousse with fresh coconut milk and kroeung, a type of Khmer curry paste made from lemongrass, turmeric root, garlic, shallots, galangal and fingerroot, or Chinese ginger. You can find this dish in both cookshop and upscale restaurants, and also you will find similar dishes in neighboring countries.
2. Nom Banh Chok
Known as "Khmer noodles" in English, Nom Banh Chok is a popular dishes both in local and in foreign countries. The rice noodles are topped with green fish gravy and green bean, banana flowers and other vegetables, such as cucumbers and mint leaves. As a famous street dishes, it costs less than a dollar in Phnom Penh.
3. Bai Sach Chrouk (Grilled pork and broken rice)
It is one of the popular street food in Cambodia and is available everywhere in this country. Local often take it as their breakfast. You can find it in middle and upper restaurants for its popularity. The authentic grilled pork and broken rice dish usually came with many type of meats on top, and usually with combination of shrimp, pork, beef, chicken, duck, fish, egg or whatever meat that you prefer with broken rice.
4. Beef Lok Lak
Stir fry the beef that have been salted with oyster sauce, soy sauce, tomato, sugar fish sauce, garlic and black pepper. Then put the lettuce and tomato on a plate and add the beef on it.
5. Kampot Pepper Crab
Kampot pepper enjoys a high reputation from the finest chefs in the world which is grows in abundance in the south of the country. Peppered crab is found along the coastal regions in the south of Cambodia, this is where it is at its freshest and most aromatic.
Drinks
Tea is commonly known and drank in Cambodia. You can have it mixed with sweetened condensed milk or served over ice. Coffee, coconut milk, soft drinks are widely available.
Beers in Cambodia can be easily found. There are two local brands worth a try: Angkor and Anchor. Foreign beers, such as Carlsberg, Heineken, Tiger, Guinness and Singha are available. Hard liquors and wine are tougher to find unless you're in a nice hotel or restaurant catered to tourists.
Dining Tips
1. Western-style restaurants are easy to find in the major tourist cities like Siem Reap and Phnom Pen. Book our private Cambodia tours; we arrange the restaurants depending on your requirements.
2. Tipping is not specially expected by the waiters. You can tip them according to the quality of service you get.
3. Please note: check the price before you order food or drinks there; choose the clean restaurants for your meals.
4. The staff in most star-rated restaurants is able to speak English fluently. You needn't worry about the language barrier.