You are here
Mekong River Cruises in Laos
Take a mystical cruise down the powerful Mekong River through Southeast Asia's hidden gem of a country. Often forgotten due to its more popular neighboring countries, Laos is one of Southeast Asia's most mysterious and pristine destinations. Many parts of this landlocked country have remained unchanged for centuries. Not only does Laos contain breathtaking natural views, exquisite temples, and quaint local villages, but it also possesses an old-fashioned cultural charm with diverse ethnic cultures, lifestyles and traditions. Laos has the richest and most abundant ecosystem of the entire Southeast Asia region. Sail through lush mountain ranges, spectacular waterfalls and untouched jungles. This country is the perfect destination for an off-the-beaten-path cruise through a pristine and unspoiled world.With Passion Indochina Travel, we operate a private tour groups tailored to the individual needs of our guests. In order to more extensively explore the magnificent cities and awe-inspiring sites that Southeast Asia has to offer, take this Mekong River Cruise and pair it with one of our top recommended tour packages. Our knowledgeable insights and special itineraries created by our highly-experienced travel professionals will provide you with an unforgettable adventure through Southeast Asia.
Top 3 Recommended Cruises in Laos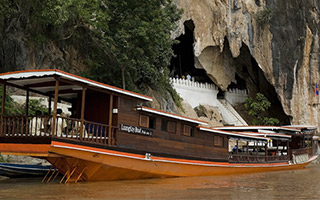 Luang Say Mekong
Tour Destination: Laung Prabang -Kamu Lodge-Pak Ou-Luang Prabang
Tour Code: 
Feature Highlight: Enjoy a 2 day cruise along the mighty Mekong River in Laos. This Luang Say cruise proposes a one way journey between Luang Prabang and Huay Xai with one nights accommodation at ...
Popular Southeast Asia Tour Packages with Laos Cruise