You are here
Vietnam - Cambodia - Laos
Private Vietnam, Cambodia and Laos Tours
Create your own adventure through Vietnam, Cambodia and Laos with our personalized and custom private tours. Make your way through Laos to explore its breathtaking natural views, exquisite temples, and quaint local villages. From its many lush mountains and spectacular waterfalls to its untouched jungles, Laos has the richest and most abundant ecosystem of the entire Indochina Region. Immerse yourself in the magical history of the sensational ruins of Angkor Wat, witnessing crumbling temples and monuments covered in vines and monstrous tree roots. Visit the quaint yet bustling town of Siem Reap, and journey down to the magical island of Koh Rong off the coast of Sihanoukville. Take a breathtaking boat ride through Ha Long Bay, with its thousands of ethereal limestone islands, weave through tributaries and drift through the bountiful floating markets of the Mekong River Delta. Our knowledgeable insights and special itineraries created by our highly-experienced travel professionals will take you on an unforgettable adventure through Vietnam, Cambodia and Laos.
Top Vietnam - Cambodia - Laos Tour Packages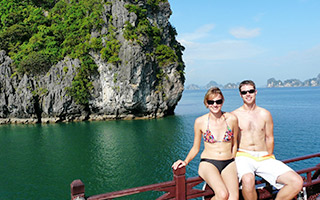 14-Day Cambodia, Laos and Vietnam Culture Discovery Tour
Tour Destination: Siem Reap, Angkor Wat, Luang Prabang, 4,000 Islands, Hanoi, Halong Bay, Ho Chi Minh City (Saigon)
Tour Code: Private tour
Feature Highlight: Enjoy Siem Reap, the temples of the Khmer Empire and the Tonle Sap Lake. Explore Luang Prabang, admire the Lao landscape and lose yourself in the 4,000 Islands region. Visit Hanoi, Halong ...
View Detail