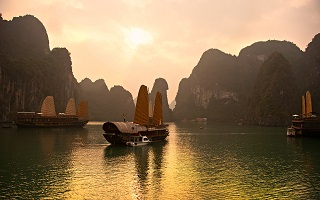 Best of Vietnam 12 Night 13 Days
Tour Destination: Hanoi, Halong Bay, Hoi An, Hue, Ho Chi Minh City, Mekong Delta Villages
Tour Code: Private tour
Featured Highlights: Discover Vietnam, beginning with a visit to its ever-so-charming cultural capital, Hanoi. Take a mystical cruise through Halong Bay, an ethereal wonder of limestone islets along the coast. Take a journey to the seaside village of Hoi An and visit Hue, the Vietnam's ancient capital city. Experience Ho Chi Minh City with its pulsating energy and discover the mighty Mekong Delta, with a cruise through its riverside ...