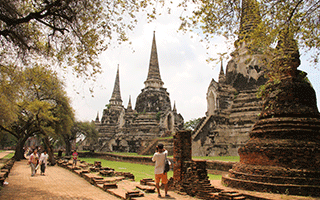 12-Day Thailand Historical Tour with Phuket Island
Tour Destination: Bangkok, Kanchanaburi, Ayutthaya, Sukhothai, Chiang Rai, Chiang Mae, Phuket
Tour Code: Private tour
Featured Highlights: Explore the grand architecture of historic Bangkok, the iconic remnants of WWII at the Bridge Over the River Kwae, the ancient ruins of Ayutthaya, Sukhothai and Phrae, and discover a world of lush mountains and hill-tribes in the infamous Golden Triangle. Once you've had your fill of history, it's time to head for another thing Thailand does best: the beaches! And there is no finer base than ...