Cambodia Tour Attractions
You are here
Svay Rieng Attractions
Svay Rieng is on of the smallest and sleepiest Cambodian provinces that just happen to have one of the country's busiest highways running straight through - National Highway No 1, which links Phnom Penh and Ho Chi Minh City in Vietnam just after you cross the Mekong River by way of the Neak Loeung Ferry. It is also one of the poorest provinces of Cambodia due to the poor quality of the land. Most of the provincial population eke out a subsistence living based on farming and fishing.
Bavet International Border
Located 48 kilometers from Svay Rieng provincial town is the international border with Vietname. The Bavet checkpoint is the main international border crossing for people traveling between Phnom Penh and Ho Chi Minh City.Bavet's main attractions are two casinos that are within short walking ...
More Detail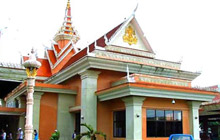 Brasoth Center
Brasoth Center is located in Prasout Commune, Svay Teab district, about 1.5 km (10mn) from Provincial Town. Operation of Sporting ...
More Detail
Prey Ba Sak
Prey Ba Sake Located in Svay Rieng District at the Southeast of the provincial town in the distance of 8.5 kilometres from the provincial town. The area of Prey Ba Sak has 84 square meters and borders river of Vag Ko at the North and the East, village of local people at the west and the ...
More Detail